June 30, 2017
How to maintain healthy hair?
Every woman knows that hair can be a challenge. This is especially so for women who have curlier hair types. Myself and many other natural-haired gals know that curlier has requires more attentive care. Because our hair types are more fragile, damage becomes inevitable. Although natural hair, can be said to be more malleable, that also makes it more susceptible to excess damage caused by that manipulation. Yes, protective styles such as braids, twists, etc can promote hair growth, but it can also be one of the culprits of hair damage. To be clear, by natural hair, I'm talkin' 3c to 4c hair. I'd love to get into the discussion of hair types and the importance of knowing your hair type, but that's another article for the next edition perhaps. Right now, I'm going to focus on 4 categories of damage that could be happening to you. It is important to understand what is going on with your hair exactly before attempting to fix it.
Physical / Heat Damage
Physical damage is the most common type of damage done to natural hair, thus having the most drastic effects. Why is this the case? Because we are always constantly trying to tame our mane. Physical damages are the hairstyles we do, the combing, detangling, etc that compromises the health and strength of our hair. Trust me, I know far too well that ponytails, puffs, and buns are a girl's best friend because they are quick and easy to do. Still, these styles can cause a strain on our edges and hair, causing receding hairline. Detangling and styling can also have an affect if not done carefully. Excessive combing through the hair can lead split ends and more breakage. For these reasons, many people turn to braids as a protective style and solution to the problems listed above. Don't be fooled. Braids can often be too tight or too heavy and when left in for too long without proper care, that can be more damaging than if your hair was out. Some protective style, huh?
You may be more familiar with heat damage and that is because it is probably the most talked about the type of damage there is. Heat damage is a type of physical damage that is often dome to natural hair. Excess hair straightening, blow-drying, and curling can all cause this. How does heat damage happen? Hair is comprised of three layers: the medulla, the cortex, and the cuticle. When high temperatures of heat are used on hair without protection, heat damage to the cuticle can occur, which breaks down the protein bonds. Signs of heat damage include: a loosened curl pattern, straight pieces of hair, reduced elasticity, dryness, frizz, and ultimately splitting and breakage.
Chemical Damage
Chemical damage is also another common criminal to our hair. This is also another reason why women often tend to transition to their natural hair. If you don't know what chemical damage is, it can be experienced from repeated use of relaxers or constant straightening of your hair. This is not the only ways you can get chemical damage though. Sometimes women with natural hair use chemical treatments such as coloring, bleaching, and highlighting. Chemical damage can also occur from the products you use. So, be careful not to use anything with with ingredients that can dry out your hair, cause more tangles, etc.
Environmental Damage
Environmental damage is the third type of damage to be aware of. You always must be mindful of the environment where you live and/or around you. For example, you must be aware of places that have hard water. Hard water is water with a high mineral content, so this means that when washing your hair, the minerals may start to affect the moisture in your hair over time. Strong winds can make your hair frizzier, resulting in breakage. Always be mindful of heat, wind, strong sun, cold air, humidity, etc.
Nutritional Damage
The last aspect that I'll touch on, but certainly not least, it nutritional damage. Although hair is technically dead, your hair follicles are not. You need the proper amount of nutrients for proper blood flow. If not, your body will re-prioritize the nutrients that it does receive. Those nutrients will then go to the most important places such as your vital organs, and the least important places, like hair, are last. Stress also affects your body and hair. Similarly, any health conditions can also affect hair growth.
Product Pick: Raw Shea Butter Deep Treatment Masque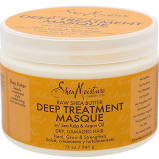 Since I was already on the topic of hair, I naturally figured I would write a review on a particular hair product! This issue's product pick is the Raw Shea Butter Deep Treatment Masque from Shea Moisture.
Being a natural hair gal myself, I love Shea Moisture. Still, that doesn't mean that every product works for me. More often than not, I'm left struggling to find what actually works well with my hair. Recently I have been experienced some hair damage and turned to this product for help. I've been incorporating it into my wash day routine for several months now and so far so good.
The main ingredient is raw shea butter, of course. This deep treatment masque is also rich with plenty of oils, like argan oil, avocado oil, and other essential oils to keep hair moisturized. Shea Moisture has also incorporated sea kelp which works well for retaining moisture as well.
This masque is specifically for dry and damaged hair. So, I encourage you to make sure that your hair can handle as much moisture as this masque can dish out. I say this because, the one downside I've found with this product is that it tends to dry-out some hair textures.
Overall, I rate this product: 4 stars.