October 5, 2017
Recipe of the Month: Stuffed Peppers with Quinoa and ground turkey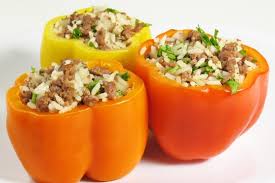 This delicious recipe is healthy and so easy to make!  Serve it at your next dinner party!
Prep time: 5 minutes
Cook time: 55 minutes
Total time: 1 hour
Ingredients (you can always double everything):
1 pound ground turkey breast

½ cup quinoa, uncooked

1 ¼ cup chicken broth (low sodium) separated

½ cup tomato sauce

¼ cup fresh cilantro, chopped

1 tablespoon olive oil

3 cloves of garlic, minced

½ onion, diced

2 tablespoons ground cumin

½ teaspoon garlic powder

1 teaspoon kosher salt

½ teaspoon ground black pepper

2-3 large bell peppers, halved and seeded

1 cup of shredded cheese
Directions:
Heat a large sauté pan over medium high heat. Add olive oil. Sauté onions and garlic, stirring occasionally until fragrant (a couple minutes).

Add ground turkey, cumin, garlic powder, salt, and pepper. Break up the turkey using a wooden spoon/spatula, allowing it to brown (4-5 minutes).

Once turkey is almost completely browned, add uncooked quinoa, tomato sauce, 1 cup of chicken broth, and chopped cilantro. Stir well to combine then cover. Let simmer over medium heat for 15 minutes.

While the mixture simmers, preheat the oven to 400 degrees F and slice the bell peppers in half. Remove the seeds and white membranes inside.

Put bell peppers halves into an oven proof dish. Fill each half with as much turkey-quinoa filling as you can. Pour remaining ¼ cup of chicken broth into the baking dish and cover tightly with foil.

Bake for 20 minutes. Remove the foil, sprinkle each bell pepper with shredded cheese and bake another 10 minutes. Serve immediately.
This recipe was found at:
http://loveandfoodforeva.com/2016/07/turkey-quinoa-stuffed-bell-peppers/