June 30, 2017
OIL OF THE MONTH – doTerra Slim & Sassy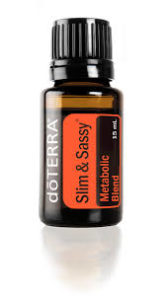 doTerra Slim & Sassy is a metabolic oil blend that helps manage hunger cravings and promotes a healthy metabolism. It's ingredients consist of all natural grapefruit, lemon, peppermint, ginger, and cinnamon essential oils. You can add a few drops to your water and drink between your healthy meals throughout the day to experience the complete benefits of all it's ingredients.
Grapefruits oil benefits:
Contain bioflavonoids and other plant chemicals that protect against serious diseases like cancer, heart disease, and the formation of tumors.

Increase the body's metabolic rate

Lowers insulin levels
Lemon oil benefits:
Rejuvenates skin

Boosts immune system

Helps relieve mental fatigue
Peppermint oil benefits:
Treats indigestion,

Helps reduce respiratory problems, headache, nausea, fever, stomach and bowel spasms
Ginger oil benefits:
Effective against motion sickness

Treat food poisoning

Treat various respiratory problems
Cinnamon oil benefits:
Relieves cramps

Boost brain's function

Improves circulation
Visit  https://www.mydoterra.com/spwellnesscorner/#/  now to add Slim & Sassy to your shopping cart!