July 31, 2017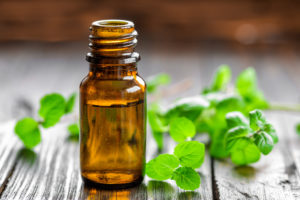 Essential Oil Spotlight: Peppermint Oil
This month's essential oil spotlight is on peppermint oil.  Not only does this oil smell amazing, but it also comes with great health benefits for all sorts of health issues, including migraines, sunburn, acne, and stomach pains!
When you have a stomach ache, one of the first things your search engine will tell you is to drink peppermint tea.  Peppermint itself is known for its ability to reduce muscle aches and spasms due to the cooling nature found in menthol, which peppermint naturally produces.  Did you know that you can get the same effect with peppermint oil?  By adding a few drops of the oil into your drink of choice, you can create that same effect, and it will produce similar results!  The carminative properties found in peppermint oil have been known to aid with digestive issues because of it's ability to help release gas.  
You can find peppermint oil at your local Walgreens, or body shop.  It can sell anywhere from five dollars to twenty dollars, depending on the size and quality you're looking for.  Here are just a few of the stomach problems that peppermint oil can help with:
-Nausea
-Indigestion
-Hunger pains
-Motion Sickness
To alleviate any general feelings of nausea, rubbing just a little bit of the oil onto your stomach, wrists, and temples can immediately show results. Be careful however; peppermint oil is highly concentrated, even more so than other oils, so all you need is about 1-2 drops.  
Trying to lose weight, but having trouble with controlling your appetite?  Open up your bottle of peppermint oil, and just take a wiff or two.  The smell of peppermint has been reported to trigger a feeling of fullness, so the oil can help you feel full quicker.  It smells like heaven too, so you'll feel great while knowing that you're helping your body too.