August 31, 2017
Food Find: Chia seeds
https://draxe.com/chia-seeds-benefits-side-effects/
Ch-ch-cha-chia!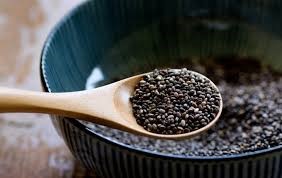 We're not talking about the whimsical house planter, we're talking about the seed! The seeds come from the plant Salvia Hispanica, that first gained mainstream attention as the hair that would grow on "chia pets". It is now much more widely known that these little guys have a lot more to offer than just their looks.
Chia seeds are native to Mexico and Guatemala, and their nutritional value dates back to Aztec warriors who would eat them for a boost of energy. Today, the seeds can be used as a great addition to any dish– from smoothies to yogurt to salads– you name it!

Though the seeds are small, they are mighty. They are one of the top plant-based protein sources, contain more Omega-3 than salmon and contain soluble fiber that aids in regulating digestion. Chia seeds are also a powerhouse of minerals, vitamins, and antioxidants!
And if you still aren't convinced to try them out, chia seeds are a great addition to meals for anyone trying to lose weight. Because the seeds absorb water in the stomach, they make you feel fuller faster and they're also rich in zinc, which produces leptin, an appetite regulating hormone.
You can find chia seeds at any store that has a health food section!
And if you still aren't convinced,
Recipe of the Month: Chocolate Chia Seed Pudding